Miniature Theater AOTENT
---
Small puppet show in a small theater! It's so small and it's most exciting!
--- Three professional puppeteers were caught by this idea, and made a
theater with the auditorium for 15 people. It is a tent theater! Who knows
how long this bold project would last? Watch for it!
---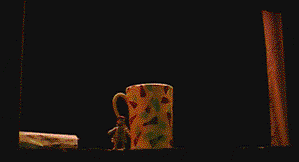 About Our Show
"TAMACHAN'S DREADFUL ADVENTURE - Part 1: Doc's Critical Medicine" is a 30 minutes show full of unexpected excitement in a small size.
There is all the attractive features of the art of puppetry that is entertaining for the grownups as well.
We are almost ready for Part 2, too!
---
Members: TAMAKI, Nobuko
ABUMI, Ryuko
OGAWA, Kosaku
---
News Flash! (September, 1996)
Miniature Theater AOTENT is invited to the Puppetry Festival in America in summber 1997 as a mainstage persormance.
It is the oldest national puppetry festival in the United States, held biannually by the Puppeteers of AmericaAInc.
In 1997, the Festival will be in the University of Toledoo in Toledo, Ohio, from July 27 to August 2.
This is AOTENT's first appearance abroad.
We are excitedto be there!
---
GO! Puppet Park Menu
---
mail : sanbonge@mtj.biglobe.ne.jp